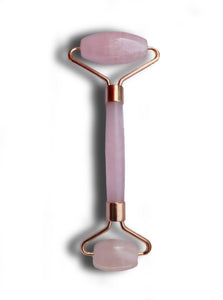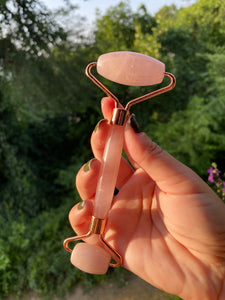 A Double-sided Rose Quartz Roller made from the finest Brazilian Rose Quartz. 
a Keepsake "stone of love" for you to hold and heal your heart chakra 💗
End your night or start your morning by de puffing and instilling self love into your care routine. Release stress and toxins within the lymphatic system by draining them with slow rolling movements over the face.

helps absorb your serums and skin care.

HOW TO USE

Cleanse your face thoroughly.
Apply moisturiser, serum, or a mask.
Start rolling on one side of your face outward and upward from the centre
(or both sides at the same time with two Rose Quartz Rollers).
Use gentle pressure, roll from the center of the face, outwards.
Repeat each movement 4-6 times. Use the larger roller for your face and neck
and the smaller roller for the delicate areas around your eyes and nose.