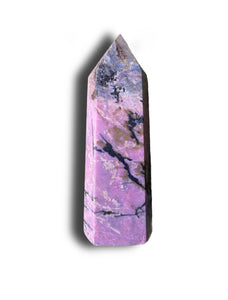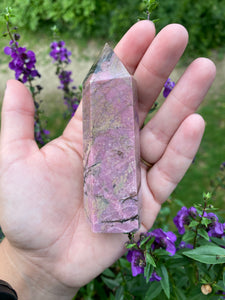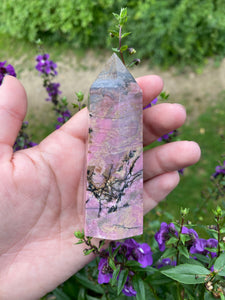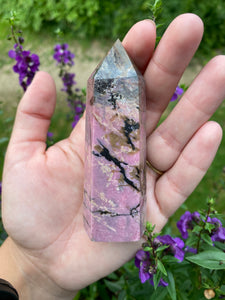 Beautiful pink color with natural black, gold/brown inclusions. 

size and colors will vary  
A stone to balance the emotions and nurture love. Rhodonite clears, cleans, and unblocks the heart chakra. It specifically stimulates the heart chakra, not just as an attractant to love, but to specifically wake us up to the possibilities of, and belief in, love. Love for ourselves, of ourselves, and of others. It can help to soothe feelings of anxiety as it heals any wounds, scars, and angers we may hold in the heart chakra energetic center, releasing the old fears and blocks that hold us back from accepting the fullness of love into our lives. Rhodonite promotes self-love and forgiveness while supporting a strong sense of appropriate emotional boundaries. It helps us to see if we have in any way been self-destructive in a relationship and then projected that blame onto another, and if yes, it encourages us to work through this and be more objective and open and forgiving. An excellent and helpful gemstone for love on any level, whether of the self or of others.
🦄Love of Self/Others, Vitality, Support
🦄 Chakras: Heart, Root
🦄Astrological signs: Taurus
** Actual colors may vary. This is due to computer monitors displaying colors differently. I try extremely hard to ensure photos are as life-like as possible, but please understand the actual color may vary slightly from your monitor. Reminder: all stones are naturally created by the Earth and will vary slightly from these pictures, each stone is unique in its own way. Sometimes stones and crystals have small imperfections and blemishes