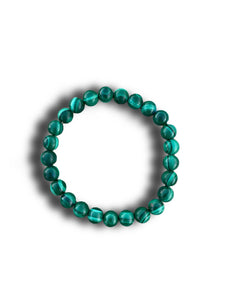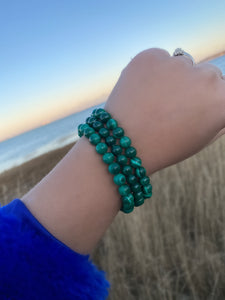 🦄Malachite is a stone of balance, abundance, manifestation and intentions. Malachite amplifies energies, both positive and negative. It absorbs energy and draws emotions to the surface. It helps to clear and activate all of the Chakras, and is very helpful in stimulating the Heart and Throat Chakras

What you will receive:
1 Natural malachite on a stretch string, fits to size! 
all bracelets will vary in color ever so slightly as they are natural stones thus differ in shades of purple. 
Malachite is an important protection stone - absorbs negative energies and pollutants, picking them up from the atmosphere and from the body.  Guards against radiation and clears electromagnetic pollution.  Malachite clears and activates the chakras and attunes to spiritual guidance.  It opens the heart to unconditional love.  Encourages risk-taking and change, breaks unwanted ties and outworn patterns, and teaches how to take responsibility for one's actions, thoughts and feelings.

Chakras - heart / all Zodiac - Capricorn, libra, scorpio
Planet - venus
Element - Earth
Vibration - Number 9
Typical colours - light - dark green