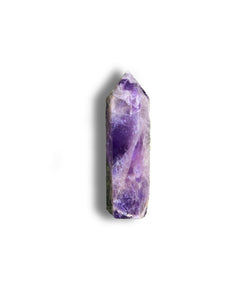 This gorgeous mini tower is great for your space, she's cute and ready to send positive vibrations your way! 

aprox 2 1/2 inches long  
Chevron-Amethyst is known to improve self-discovery, peace of mind, and relaxation. It is also said to carry inner strength as well as courage. Chevron-amethyst makes powerful healing fields around the owner and it is great for improving the immune system and cleansing your aura.
it enhances intuition, and great when working with the third eye chakra. Beautiful inclusions! 


* towers may vary in size, color, and inclusions as they are natural stones.