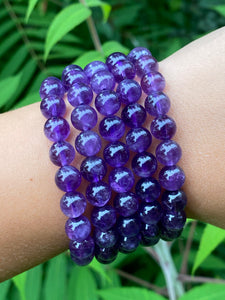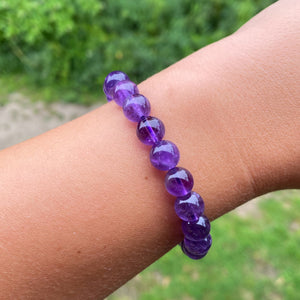 🦄 Considered the stone of sobriety, Amethyst can help one identify the root causes behind unhealthy behaviors, habits, or emotional patterns.

What you will receive:
Natural amethyst on a stretch fit, fits to size! 
all bracelets will vary in color ever so slightly as they are natural stones thus differ in shades of purple. 

Amethyst is a beautiful calming stone that works with you in emotional and spiritual attributes you wish to focus on. 
It is said to contain the energy of fire, passion, creativity and spirituality. Amethyst is also known to aid in sobriety, sleep and temperament. Amethyst has the ability to convert lower vibrations to higher frequencies, which then transforms negative energy to love energy.


Chakras - Third Eye Chakra, Crown Chakra
Birthstone - February
Zodiac - Virgo, Sagittarius, Capricorn, Aquarius, Pisces
Planet - Jupiter
Element - Air, Water
Vibration - Number 3
Typical colours - light violet to a dark grape purple